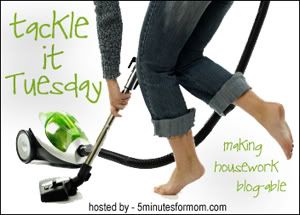 I decided to join in on the Tackle It Tuesday fun! You can click the button above to find more Tackle It Tuesday posts as well!! Well here it goes..(although there wasn't much tackling for me today, I'm sad to say)


1. I got all 4 kids dressed and ready for school..put the 2 oldest on the school bus and took the 2 youngest to daycare. (I used to take all the kids to school until I had an incident with my van that included me hitting a culvert...which left us with a very small ford ranger which does NOT house 4 children in no way, shape, form, or fashion)

2. I finished mowing the very, very, tall grass in my yard!(minus weedeating...I don't do this task well...ok so I've never actually tried, but I just don't think it's for me)

3. I swept "some" of the floors in my house. (my vacuum is out of commission, much like my van is, so that leaves me with sweeping the carpet!) Has anyone ever done this besides me...because it's a horrible experience and takes a very lengthy period of time to say the least!

4. I checked folders and backpacks and gave baths also...but that's an everyday thing..so that's not much of a victory, but I'm running out of options here people..didn't you see above where "there wasn't much tackling for me today"

I'm sure I might tackle some more things sometime this evening and night, but as for now that's it for my tackling!!